15 and 30 Year Home Loan Rates
Posted by Julie Wright on Friday, October 20th, 2017 at 9:00am.

Gross Domestic Product, the broadest measure of economic activity, climbed to a more normal 3.1 percent in the second quarter, up from 1.2 percent in the first quarter.
Home loan rates bounced around due to tensions with North Korea, debt ceiling debates and devastating hurricanes, but they remained just above all-time lows in the third quarter.
Home prices continued to rise.
Entering the fourth quarter, the big question is: What will home loan rates do now that the Federal Reserve announced its specific plans to unwind its $4.5 trillion balance sheet, which includes Mortgage Bonds?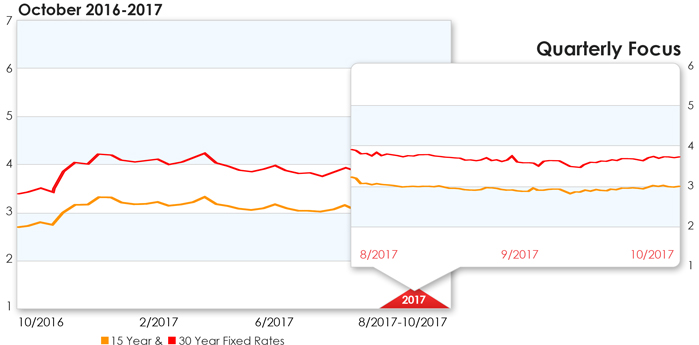 News From the Fed

The Federal Reserve announced plans to unwind its massive $4.5 trillion balance sheet starting on the ninth business day of October and continuing every ninth business day of the month thereafter.
The balance sheet is made up of Mortgage Backed Securities and Treasury Bonds. The plan is designed to cause little disruption to the market.
Seeing that this has never been done before, it remains to be seen what happens over time to Mortgage Bond prices and the home loan rates tied to them.

For now, home loan rates remain just above all-time lows. Stay tuned for your next quarterly update in January.
Get in Touch:


Myles Zomok
NMLS #: 1289158
Loan Officer
Mann Mortgage, LLC
Phone: (702) 602-6266
Fax: (702) 938-8655


myles.zomok@mannmortgage.com

Mastura Roberts
(702) 919-5400
offers@greatlasvegashomes.com
Team Leader, The Tonnesen Team
Berkshire Hathaway HomeServices, Nevada
3185 St Rose Pkwy #100 Henderson, NV 89052
With over 30 years of experience helping families call Las Vegas "home!"
Leave a Comment